Christmas Cards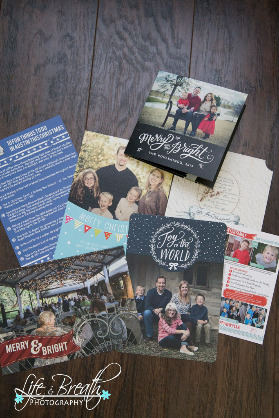 We can help simplify getting Christmas Cards for your family! After we do a photo session, simply pick the card and the photos you would like to use and we take care of getting them ordered and delivered to you. We offer unique designs, including the new "Pop Cards," which have a small pop out section to the card which becomes an ornament for recipients to put on their tree. These are in patterns that complement the standard 5 x7 cards, so you can send these special ones to family and close friends and a complementary 5 by 7 to everyone else.
Our turn-around time is fast. Once you submit your order, the cards will arrive within 3 days. We work fast, since we know the holidays are jam-packed.
Some holiday tips for sending cards:
If cost is an issue, consider sending e-cards to friends and neighbors whom you see on a regular basis.
Give something special like a pop-out card or accordian book for family members who you don't get to see frequently.
Save a Christmas card from your family (and any letter/newsletter) in a photo safe storage box each year and you can put together a photo book someday of Christmas cards & letters of your family.
View the catalog at
www.mydesigncatalog.com
. All the cards can be customized with any text. If it says "Happy Holidays", it can say "Merry Christmas" or vice versus. We can add scripture, ages or even a new address, if you have moved. Cards will include envelopes.
Pricing - All cards require a minimum order of 25 cards:
Standard flat cards - $1.50 each.
Folded Cards - $2.00 each
Trifold and pop out cards - $2.50 each.
The Accordian mini books in the catalog are $12 each.
Envelopes can have return address added for $5 for every 25 cards.
Delivery/Shipping is free.

How to Order:
Go to your Client Proofing site and login. Select the "Christmas Cards & Announcements" tab to order Christmas Cards. In the comments section of the order, tell me the name of the Christmas card you would like (see my catalog on my website) and the image number of the pictures you would like included. Please consider the size of the photo on the card when selecting an image. For example, choose horizontal picture for horizontal slots on the card. If the card has spots for a square picture, make sure to choose a picture that can be cropped to a square.Once you send me an order, I will create a mockup of the card and send it to you. Cards will be turned around in 2-3 days once the proof is approved.